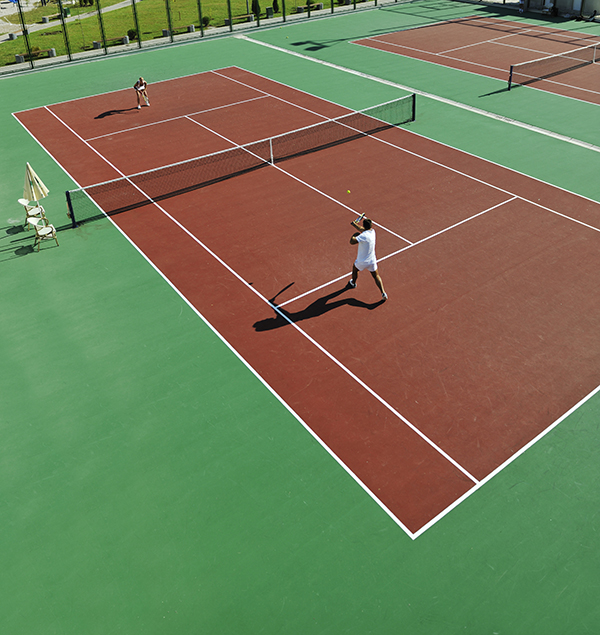 ABS Sports Fields have always been builders of tennis courts. Whether they be stand alone courts, part of a tennis complex, or as a combination within a Multi-Sports field.
The combination of the base and playing surface varies depending on the criteria and demands of the facility and the management, therefore, not all tennis courts are alike.
The time and effort expended by the ABS Sports Fields team to come up with the best quality construction base and surface finish is the key to the long term success of our projects.
To view our gallery of installations click here or contact us today to discuss your specific installation needs.
The court is 78 feet (23.77 metres) long. Its width is 27 feet (8.23 metres) for singles matches and 36 feet (10.97 metres) for doubles matches.
The design of your sports field isn't just about the layout of your new facility, it also determines the base structure, product use and specifications. At ABS Sports Fields we ensure excellent design which in turns provides you with a field you know will stand the test of time.
A poorly designed sports facility may initially stand up for a few years, but more often than not a poorly designed fields which is less than functional for the uses they were intended for often require heavy renovation work within just a year or two.
Much of the renovation work we do at ABS Sports Fields is due to poorly designed fields that actually needed the work 3 or more years before the owners were able to put together the proper capital to have the work done. There are plenty of ways to try and save money on a build project but design and grading is not one of them.
Sports field engineering is very unique and it is common area for installation companies to fail in as they do not have a true understanding of this engineering area. Whether it be the drainage, uneven surfaces our extensive experience in sports field engineering and a detailed knowledge through our vast research experience, ABS Sports Fields should be your first point of call.
Laykold® is an acrylic sports surfacing system that can be customized to achieve the desired performance, playability and appearance.  Laykold® is the number one choice of premier tennis facilities across the world and is also widely used for all weather basketball courts, game courts, and pickleball.  Laykold® is the official surface of the Miami Open and has been since 1984.  Choose from hard court, cushion court, Laykold Traditional systems or our new Laykold Masters systems, which feature the next generation of court technology.
APT Asia Pacific is the most vertically integrated synthetic turf manufacturer in Asia Pacific. All their Omnicourt and Supergrasse® tennis court products are manufactured using in-house, proprietary yarns that are extruded in our Australian production facility. Further, all Omnicourt and Supergrasse® systems are backed by proprietary hybrid emulsion secondary coating for superior tuft lock. You can be assured that all key components are covered by APT Asia Pacific's systematic product design and manufacture.
Product information supplied by APT Asia Pacific.
Supergrasse and Omnicort Grooming Guidelines
A new sand filled surface requires a settling in period during which the sand compacts below the top of the yarn blade and should be maintained at that level for the life of the court. When your surface is first installed it is essential that you store some spare sand in a clean, dry place. The aim of grooming is to keep the synthetic fibre 'blades' free and open. This will enhance performance and improve drainage through the system. Sand may also become depleted in heavy traffic areas (along the baselines) and deposited elsewhere. You need to level out any hollows and hills. Every week for 6-8 weeks using a wide Bassine broom, redistribute sand as necessary. Give your new sand filled surface a good heavy brooming (push don't pull), working against the direction of the lean making sure the fibers are upright and the sand is distributed evenly. The aim during this period is to achieve a consistent level of sand with 1mm to 2mm fiber exposed above the sand. After this settling period the heavy brooming may be limited to approximately twice per month.
Maintenance information supplied by APT Asia Pacific.