Our sister company Berry Bowling Systems is the largest Synthetic Bowling Green constructor and installer in Australia and possibly the world. With over 400 World Bowls Board approved synthetic lawn bowling greens in Australia, New Zealand and the USA.
Their success is based on quality design, construction and numerous surface materials, not through pricing alone. Berry Bowling Systems offer several alternative Synthetic Surfaces Systems to meet different criteria, conditions, demands and budgets.  All our synthetic surfaces are laid on the Berry Bowling Systems Free Draining aggregate base. All surfaces available with or without the BBS Rapid Drainage system.
Sand Filled Synthetic Grass – with & without cushioning
Woven Carpet Surfaces – Indoor & Outdoor
Needle Punched Carpet – Elite Outdoor Surface
To view our gallery of installations click here or contact us today to discuss your specific installation needs.
The design of your sports field isn't just about the layout of your new facility, it also determines the base structure, product use and specifications. At ABS Sports Fields we ensure excellent design which in turns provides you with a field you know will stand the test of time.
A poorly designed sports facility may initially stand up for a few years, but more often than not a poorly designed fields which is less than functional for the uses they were intended for often require heavy renovation work within just a year or two.
Much of the renovation work we do at ABS Sports Fields is due to poorly designed fields that actually needed the work 3 or more years before the owners were able to put together the proper capital to have the work done. There are plenty of ways to try and save money on a build project but design and grading is not one of them.
Sports field engineering is very unique and it is common area for installation companies to fail in as they do not have a true understanding of this engineering area. Whether it be the drainage, uneven surfaces our extensive experience in sports field engineering and a detailed knowledge through our vast research experience, ABS Sports Fields should be your first point of call.
SAND FILLED GRASS SYSTEM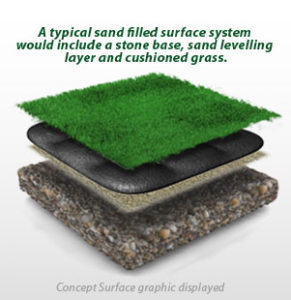 ABS Sports Fields offer TWO options on its specially designed and installed aggregate base system:  "PRO-MASTER SUPER":  Our most traditional Synthetic Bowls Surface. This is our high quality, traditional, UV stable sand filled synthetic bowls surface. Often referred to as the first generation in synthetic surfaces for bowling greens. This traditional sand filled synthetic bowling surface is still a major part of the installations at ABS Sports Fields.
"PRO-MASTER SUPER" CUSHION:  Our innovation in comfort. This is an identical product to the Pro-Master Super, with the added convenience of our specially designed and manufactured cushioning layer.  ABS Sports Fields has always been an innovator, and the addition of our specially designed and manufactured CUSHION back is no exception to the rule.  Player comfort is a high priority, and for those who prefer sand filled systems, its hard to go past the upgrade to the Pro-Master Super Cushion.  It only takes a few minutes walking on this innovative product to notice the difference. If your budget can afford the upgrade, then Pro-Master Super Cushion is where your budget can best be utilised.
WOVEN CARPET – OUTDOOR & INDOOR WOVEN SURFACES
OUTDOOR WOVEN SURFACES:   DALES "PRO-WEAVE 1000"  Produced by Dales Sports Surfaces in England, exclusively for ABS Sports Fields. A very high quality woven bowls carpet, produced to the highest possible UV standards in the world, specifically to withstand Australia's harsh weather conditions and extreme UV exposure.
Pro-Weave 1000 is the new generation woven bowls carpet produced to each customers specialty order requirements. Under pads are chosen in order to obtain the correct response and performance required by each club, on each green. The first of this new generation outdoor surface was laid at the Lakes Entrance Bowls Club. Two, 8 rink greens completed in August 2009, are the envy of neighbouring bowling clubs.
INDOOR WOVEN SURFACES:  DALES "PRO-WEAVE TOURNAMENT"  Produced by Dales Sports Surfaces in England, exclusively for ABS Sports Fields. The same very high quality woven bowls carpet used throughout the United Kingdom and Europe at only the best quality indoor bowling centers.  Used by World Bowls for competition, this amazing indoor bowls surface is a high performer and pleasure to bowl on.
A choice of UNDER PADS are considered in order to meet the clubs individual performance requirements. The first and largest new Indoor Bowling surface was been built and installed at the Brighton Bowling + Sporting Club in Victoria . One 8 rink green and one 4 rink green (designed for International competition and television) were designed and built in August 2009.  ABS Sports Fields constructed a specially designed timber floor, with noise barriers and absorption, over which they laid speed controlling under pads and finally stretched to speed Pro-Weave Tournament.
NEEDLE PUNCH
DALES "PRO-GREEN PLUS"  Produced by Dales Sports Surfaces in England, exclusively for ABS Sports Fields. A very high quality needle punched bowls carpet, designed and produced to the highest possible UV standards in the world, specifically to withstand Australia's harsh weather conditions and extreme UV exposure.  Providing the best "under foot" experience, and the lowest maintenance bowls carpet in the market today. On top of the ABS Sports Fields designed rapid draining, porous, aggregate base, we install an 8mm selected under pad, before laying our 8mm thick premium needle punch bowls carpet, giving bowlers 16mm of padding under foot.
Huge benefits over other Synthetic Bowls Surfaces:
No need for mowing, or professional preparation for bowling.
Comfortable under foot. 16mm of comfort.
Vacuum the needle punch surface and bowl.
Bowlable 365 days of the year
Bowlable 7 days a week
Bowlable 24 hours a day, subject to lighting.
An under defined long life span – yet to replaced due usage.
Not under pressure – not stretched.
Easily repairable
No water required for maintenance
Installed with 34mm Landscape grass in ditches (no sand), compliant with RVBA holding surface regulations.
World Bowls Approved surface and system.
The ABS Sports Fields Needle Punched Bowls system provides amazing longevity. In Europe, the original specification Dales Needle Punched bowls carpet has been down in the Mediterranean since 1996, and is still performing like new. ABS Sports Fields laid the first needle punch in Australia Hastings Bowling Club in 2004.
All sports fields require regular maintenance. Just like golf greens and tees, sports fields are high use, high performance areas. Indeed, when a field is in poor conditions it is more likely to have a negative impact on the players as well, causing injuries, making them focus on their own safety instead of developing their skills.