Gisborne Bowling Club, Victoria, Australia
The project encountered highly reactive clays in the sub grade which was not highlighted in the geo tech report.  Subsequently the compaction rate of 95% standard could not be achieved on the sub grade.  ABS Sports Fields contracted a technical engineer to offer an alternative design as a variation to the council which they accepted.
The result was the procurement and laying of a tensar grid layered with 175mm of crushed rock. This work was carried out within two days and the achieved outcome resulted in compaction rates of over 100%.  The local shire and club were pleased with the results, guaranteeing a stable base over the life of the proposed system.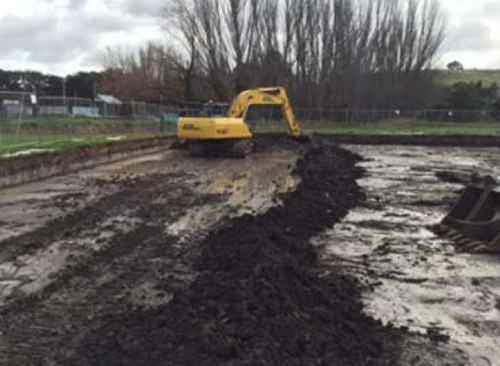 Date Project Completed :  In Construction June 2015
Surfaces : Dales Pro-Weave 1000
Contract Value : AUD $360,000
Base Construction : Crushed rock sub base, graded to World Bowls specifications.
Main Contractor : Berry Bowling Systems Pty Ltd / ABS Sports Fields
Civil Contractor : Joslyn Contracting
Technical Consultant : Geofabrics Australia
Installation : BBS In-house staff